Turbo Charge Your Results with Group 1-on-1 Coaching & Prayer Support!
I've Got Something VERY Special for You Today…
I am walking, living proof
WHEN I STARTED LISTENING TO YOUR SHOW, I WAS BEDRIDDEN, TAKING 22 PILLS A DAY. The doctors did not think I would work again, and they recommended a pain pump be implanted into my body. Through your show It gave me hope, and I knew I would heal. All the contributors are amazing, and I learned so much. I am walking, living proof of all that you bring to this world. Thank you Darius.

*
Susan Bradley-Boartfield
Group 1-on-1 'Energy' Coaching from 3 Top Healers and Darius Barazandeh through 3 powerful 1-on-1 Group Help Calls on Thursday, April 16th, 2020 / Thursday, May 21st, 2020 / Thursday, June 18th, 2020 (a $297 Value): For those who want energy readings, prayer circle support and personalized coaching help with group 1-on-1 support — PRICELESS!

Lifetime Access to all our Season 19 Daily Energy 'Activation' Sessions for the deepest transformation (a $327 Value): You won't ever have to worry about missing any of the sessions, insights, or energy processes. You'll have unlimited downloads of the exercises, tools and energy activations and more!
Heart-Warming Support and Access to our Private You Wealth Community

(a $297 Value)

: You will never be alone in this journey as you'll be a part of our private "Vortex Community" of rapidly transforming light workers around the world. You'll even have opportunities to get your questions answered by our star-studded line up of healers, teachers and masters!
You'll Get $3,418 in Gifts, Lifetime Access and Special 'Energy' Coaching from 3 Top Healers!
You'll Get 3 Group 1-on-1 Coaching Sessions, Lifetime Access to All Recordings and Private 'Vortex' Group Access!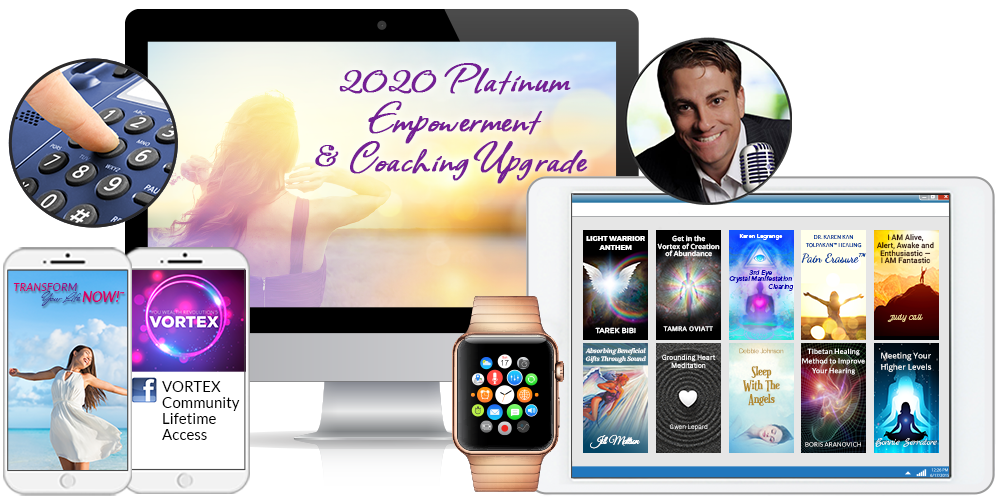 Your Investment Is Risk-Free — and Your Delight Is 100% Guaranteed
A Carefree Experience: If you are not satisfied within 30 Days, keep ALL of your call recordings absolutely FREE!
We believe in the power of giving you the tools to create the life you deserve and desire. If you are not happy with it FOR ANY REASON you can keep the call recordings of our daily energy transformation sessions.
Not Satisifed for Any Reason? Please Contact Us for a Full Refund!
Keep the Vortex Group Access!
Questions: Email [email protected] or call 1-866-499-0261.
Yes! I Want Special Group Coaching, Frequency Prayer Help & Access
(97% OFF Limited-Time Price Discount)



YOU ARE MY REAL HERO, DARIUS. I AM TOTALLY CHANGED like you always said that awakening is a process one by one we will open petal. It is so true, and my awakening is happening same way I am not same person as I was 3–4 years ago. Right now I DON'T ANY WORD TO DESCRIBE MY FEELINGS. But that awakening process began when start listening your call and it still going on.

*
Rani
YOU WEALTH REVOLUTION HAS BEEN ABSOLUTELY TRANSFORMATIONAL. IT HAS BEEN CRITICAL FOR ME IN KEEPING MY VIBRATION HIGH, integrating the activation of higher energies and understanding the entire process. I am so grateful for this community.

*
Demetria Manuselis
I had to email you and let you know how amazing this bonus call was for me! Darius picked me on the phone as the first caller and it was an answer to my prayer… focused to the root of the relationship issue I'd been dealing with for a long time. I was unable to even say the words to breakup with my long-term relationship even though we weren't even living together or married… focused in on what the root was, which was I was trying to make it "right" for my ancestors four generations back on my mom's side!!! It was an immediate tearful confirmation when she said that, and I immediately felt lighter afterward. This morning, I made the call and broke up with my boyfriend!! It was loving and understanding on both sides. It's sad and tears are flowing but also there's a freedom and a deep knowing that this was the highest and best for both of us. I'm so thankful for you… being so generous with your time and energy to really help shift generations of pain and heavy energy. Much love!

*
Patricia J.
I HAVE ALSO BEEN ABLE TO LARGELY RELEASE AND SET FREE WHAT FELT LIKE CENTURIES OF PAIN, BURDEN, AND TRAUMA that I have apparently not be ready or willing to let go of until recently. Old memories now do not seem to randomly trigger me anymore… You Wealth has helped me to live each day from the heart. I have wanted to do this all along, but often would get lost in the energies of my surrounding environment. Now I can more confidently stand in my own truth and be my loving true self wherever I go.

*
Noah Oyen
MORE THAN ANYTHING, YOUR SHOW HAS HELPED ME SHIFT AND CLEAR YEARS UPON YEARS OF GENETIC CYCLES, AT VERY CRUCIAL TIMES, and I see the changes every day in my present family. Thank you so very much for holding the space and facilitating such massive love and peace for my family.

*
Catherine Christmas
Wait! Want Lifetime Access to All the Season's 60+ MP3 Interviews?
Would you like lifetime access to the transformational calls and interviews of this season?
Here's a special limited opportunity to get the You Wealth Revolution Gold Package. You'll get 60+ downloadable MP3s (Speakers, Live Q&As and Energy Clearing Calls) — all yours to access any time for just $77!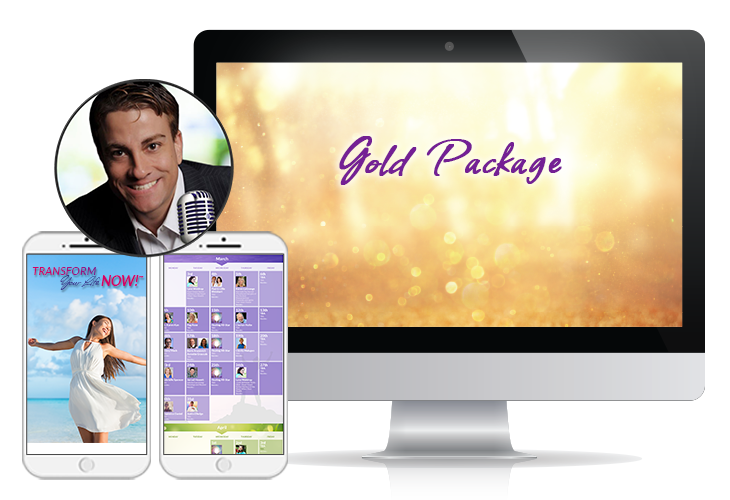 *DISCLAIMER: The information on this site is not intended or implied to be a substitute for professional medical advice, diagnosis or treatment. Financial or life results vary with each individual and we cannot guarantee that you will experience results similar to the testimonials presented on any of our pages or any results at all. These products are not intended to diagnose, treat, cure or prevent any disease. Testimonials are true and correct, and we will verify them upon request and also provide statements of expected typical results (email: [email protected]); however, these statements or examples should not be viewed as promises or guarantees of results. Any statements have not been evaluated by the Food and Drug Administration. Results are affected by a number of factors over which we have no control. Please see extended disclaimer at bottom of this page.
IMPORTANT MEDICAL DISCLAIMER: The information on this site is NOT INTENDED or IMPLIED to be a substitute for professional medical advice, diagnosis or treatment. All content, including text, graphics, images and information, contained on or available through this web site is for general information purposes only. Please see a medical professional if you need help with depression, illness, or have any concerns whatsoever. WE DO NOT OFFER MEDICAL ADVICE, COURSE OF TREATMENT, DIAGNOSIS OR ANY OTHER OPINION on your conditions or treatment options. SERVICES OR PRODUCTS THAT YOU OBTAIN THROUGH THIS WEB SITE are for information purposes only and not offered as medical or psychological advice, guidance or treatment. Results shared are not typical. You may or may not experience anything from our sessions, the services provided by teachers, speakers and guests. Please consult a medical professional if you are experiencing illness, depression, anxiety, mood swings or any concerns whatsoever. These statements have not been evaluated by the Food and Drug Administration. These products are not intended to diagnose, treat, cure or prevent any disease.
AFFILIATE COMPENSATION NOTICE: You should assume that the You Wealth Revolution has an affiliate relationship and/or another material connection to the providers of goods and services mentioned on this page and may be compensated when you purchase from a provider. You should always perform due diligence before buying goods or services from anyone via the Internet or offline.
REFUND POLICY: You Wealth Revolution appreciates and values all our listeners and speakers. As a show of our appreciation, we are happy to offer a 30-day Money Back Guarantee to our valued customers to better help them discover if a product will work for them. However, as a way to help show our speakers how much we treasure their knowledge and hard work, a refund can only be offered on one package per customer in a 90-day period. Multiple refunds requested by the same customer within 90 days will not be accepted. Should we notice a pattern of excessive purchases and returns, we reserve the right to remove such person(s) from our mailing list, block future purchases, and/or deny future refunds. Should the speaker's offer involve a personal session, the guarantee will be voided in the event that the session has been used. Should the speaker's offer include digital content, the guarantee will be voided and no refund granted if more than 30% of tracks have been downloaded. We rely on your integrity as a You Wealth listener to honor each speaker's digital assets. Additionally, all requests for refunds should be submitted within the 30-day guarantee period. We appreciate and thank all our listeners for understanding and respecting this guarantee.
**SURVEY OF YOU WEALTH LISTENER RESPONDENTS: In a survey conducted in August of 2013 listener respondents were asked specifically "Has the You Wealth Revolution Event Helped You Have a Better Life?". Out of 1164 total respondents, 1097 people answered "Yes". Only 67 respondents answered "No". A total of 94.24% percent of respondents said this event helped them have a better life. A copy of this survey and our results can be emailed upon request by emailing [email protected].